But we did manage a trip back to the camp site at Shelly Beach in the Coromandel. We did quite a bit of travelling around, including a trip up to Colville and a drive over to Whitianga. During the drive back, down a very large and steep hill, the brakes overheated and a very nervous Rachael had to hand back the driving to Mum. This in turn led to a trip south to the only available mechanic, who found nothing wrong apart from topping up the brake fluid. While in Whitianga we had a boat trip down the coast in a glass bottomed boat. Rachael was eagerly taking in all the local geology, but alas, we didn't strike gold.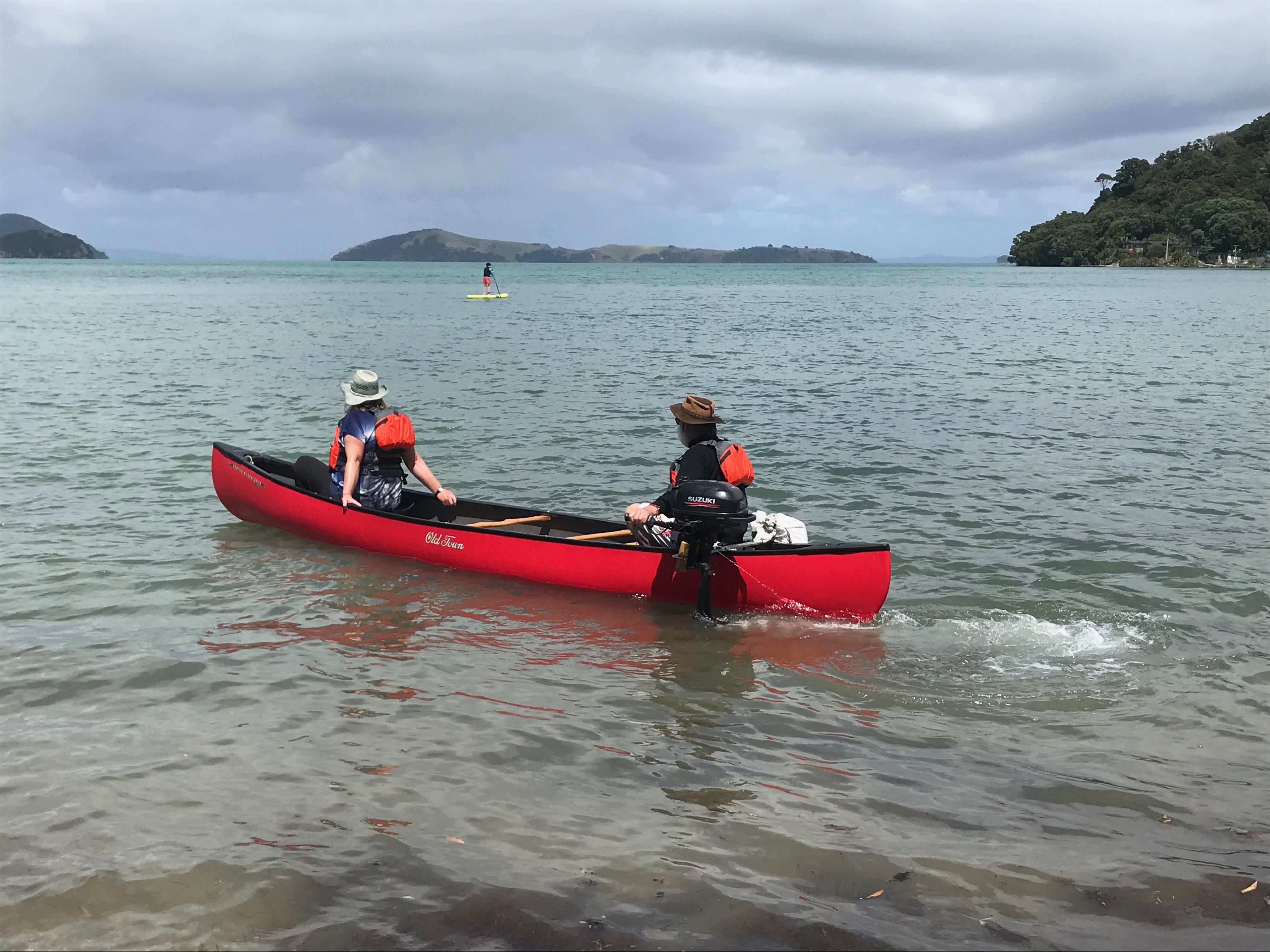 Back in Shelly Beach, there was the obligatory trip up the mini railway, and the Water Works. Rach also got a session on the zipline with Dad. We also came across a friend that we weren't expecting, and who took us out on his Canadian canoe. With a little outboard motor attached. He also gave Tim some lessons in fly fishing, including a nighttime session a kilometre out on the beach. He also gave him some lessons in metal detecting, after Tim lost a few of his fishing weights…
Sarah did well at school, with lots of merit and excellence at English, Maths and Science, and a pass with outstanding effort (I won't attempt to explain the grading system!) at Hospitality. Next year she'll take up Chemistry (she has a keen enthusiasm for explosives) and a practical and business course. Rachael also did well, and the Earth Sciences and Marine Studies is feeding her natural curiosity, even if the university system can be frustrating. And she's now got her restricted license. Despite her car's gearbox breaking two weeks before! A new gearbox was fitted, and so far it's been fine. Including the brakes.
Bronwyn had her (much delayed) graduation at Carey College in April (she's already well into the higher level course), and we also had three big birthdays to celebrate. We collected all the old photos for Sarah's 16th and Rachael's 21st, and far too much cake. Bronwyn's 50th was a little trickier since it was in October, and we were already over a month into a level 4 lockdown. But we did manage to provide a few surprises for her!
Bronwyn, on a Moeraki Boulder.
In between the birthdays, we had our trip to Southland. None of us had ever been to the far south before. We started in Dunedin, about 200 metres from the world's steepest street. Parking was tricky! We paid a short visit to Baldwin Street but didn't attempt to drive up it. Especially with black ice at the bottom! We did a short trip up north to Moeraki, where we had an excellent lunch in the Moeraki Tavern and then went out to see the Moeraki Boulders. Unfortunately, you're not allowed to take them home. We had another trip out to see New Zealand's only castle and the albatross colony, and then drove down to the far south.
It's quite undisturbed down there, and a far cry from Auckland. We came across some seals and a rare penguin and paid a visit to Antarctica View Farms to get to the southernmost point of the South Island. After a visit to Invercargill and Bluff, we made the long journey back to Dunedin. Decided to stop in Gore for lunch. Got in a traffic jam. With tractors and horse drawn carriages. Perhaps there's a parade? No, looks a bit chaotic to me. Ah! It was the farmers' protest; about the pile of regulations and the way the city people treat them. So (after finding a parking spot away from the farming trucks and sheepdogs) we had lunch, with Bronwyn furiously phoning her family and giving a running commentary on the vehicles going past!
We've got into the mode of lockdowns. Tim tried making a variety of jams, jellies and chutney, and some feijoa wine. The yeast packet said it will "contribute a significant amount of esters". It did. It tasted OK, but did rather have a lingering aroma of Evo Stik. We now have far too many potatoes and a variety of lettuce and other vegetables (along with the three or four eggs we get each day!) We're also surrounded by sheep and have water from the sky, so survival shouldn't be too hard. Just need a way to manufacture chocolate, of course.
In August, someone went touring around Auckland and the Coromandel (the same places we'd been in January) and tested positive for Delta. After a couple of weeks, it seemed like the outbreak was under control, but it had now spread into several communities that didn't want to have their movements traced, and things got rapidly out of control. So instead of trying to stamp it out, they started a vaccination campaign. Now, with over 90% of over-12s vaccinated, we have freedom again. But only if you're vaccinated; it's a two-tier system. Health, dental and education workers are required to be vaccinated, and quite a few have lost their jobs as a result. It's caused a lot of division, but at 92% of the eligible population (12 and over), it sounds like a safe bet at the ballot box…
Tim missed the brass band contest (it was in the same week as Dunedin) but they had a few sessions playing carols after the lockdown. And he had his first ever attempt at surfing. Very briefly. We've done our best to celebrate Christmas (Sarah had the tree up on 1st November and to make the most of what we've been able to do this year.
We send out our best regards and hopes that 2022 will go a bit more according to plan!
Tim, Bronwyn, Rachael and Sarah.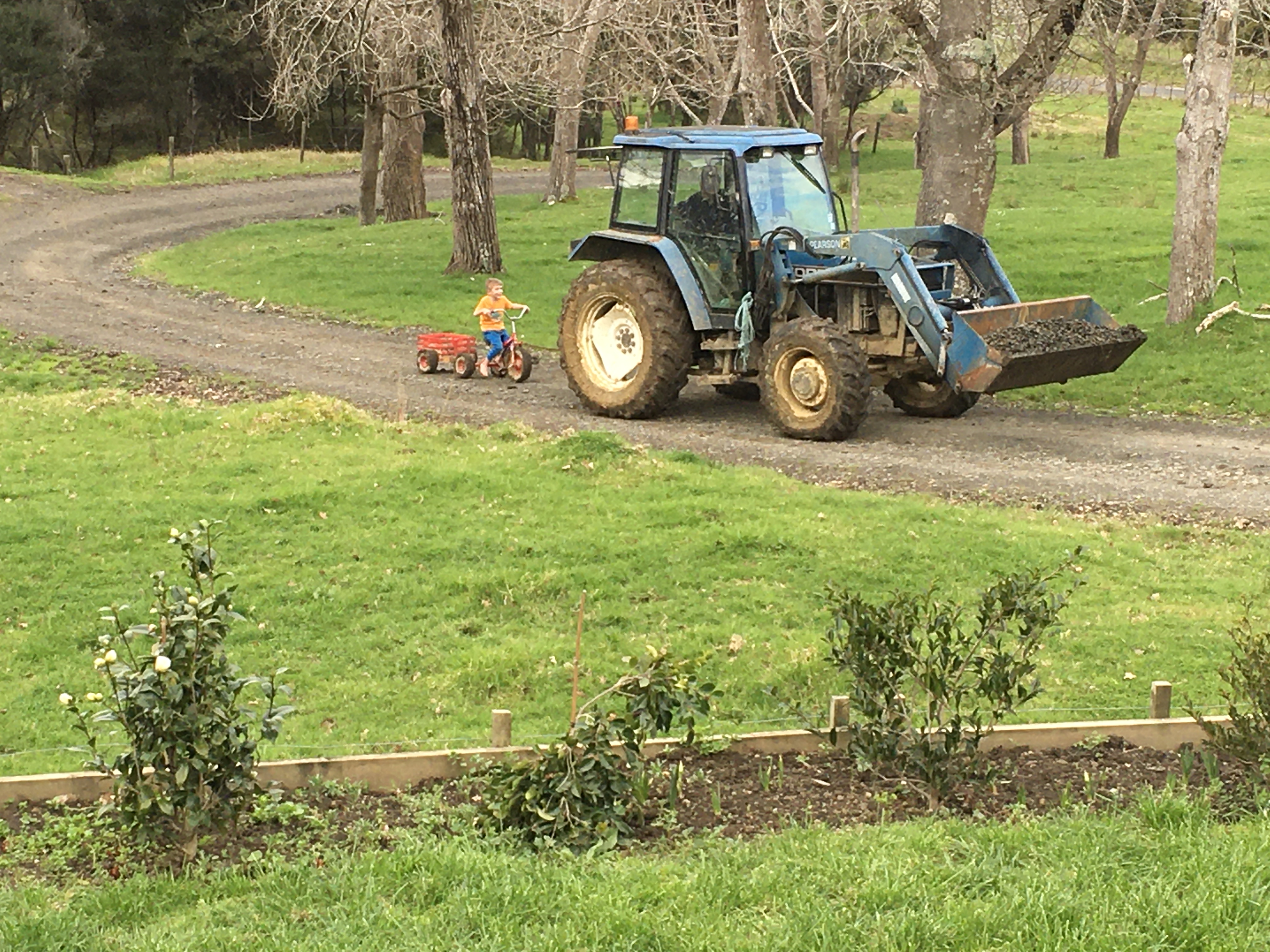 Cousin Blake gets a tow
Lockdown hairstyling
Sarah, trying to understand physics
[ add comment ]
( 176 views ) |
permalink
|





( 3.1 / 112 )
---
<Back | 1 | 2 | 3 | 4 | 5 | 6 | 7 | 8 | 9 | 10 | Next> Last>>