At the brass band contest today, we had a different judge because the original one was down in Christchurch clearing the rubble off the pile of music we'd given him. Fortunately the motorway opened at noon, so we had no trouble driving down. We came fourth, but we were up against some very good bands so we were just there to have fun!
Both girls haven't been well, and Rachael's chipped a tooth, so she'll be visiting the dental nurse at some point to have it smoothed over. It seems that even when she's ill, she can still bounce around so much that she does herself an injury!
We're thinking of hosting an overseas student next year, so we've been given a few profiles to look over. Bronwyn came home today with some tester pots of paint, so I feel some redecorating is on the cards, as well as a lot of work to clear the spare room!
[ add comment ]
( 507 views ) |
permalink
|





( 3 / 683 )
---
Next week, I'll be going to south Auckland for the brass band contest. Unfortunately, it's also the weekend that they're closing the southern motorway, so virtually all traffic from north to south is going down a different road instead. Hopefully we'll all get there eventually. At least the road north will be fine - they're only closing the southbound side, in order to dismantle a large gantry over a new section of flyover.
At work, we keep moving the goalposts. About 7 schools have been given test versions of the new software. The bug list is up to 65, but we're only planning to fix the worst of them for next week. I'll be glad when it's all over...
[ add comment ]
( 541 views ) |
permalink
|





( 3 / 701 )
---
Rachael entered exams for writing and for spelling. She's just got the results for writing, and for the writing exam she came first (equal with another girl) in the school! So she's off on a trip on the ferry across the Auckland harbour with Auntie Claire for the afternoon. Haven't got the results for spelling yet, but she did pretty well last year.
At work, the light at the end of the tunnel keeps moving further away, but we're getting closer. We have spent 1300 hours restructuring the whole system. We let a few teachers have a look, and their comment was that nothing much had changed! So we spent 15 hours changing the appearance, and everyone's amazed. We've got a few obstacles to go, but hopefully everything should be ready Real Soon Now.
[ 1 comment ]
( 3712 views ) |
permalink
|





( 3 / 725 )
---
But at least I have a car again. It starts first time, and it's got a warrant. It's great to sit in the car and just turn the key again. The mechanic made me promise to give it a good wash and treat it well, now that it has a new engine in it. Bronwyn's car has come back from the panel beaters but it still needs the seatbelt, cam belt and steering done. Although the steering is now working again, so we might leave that for now.
Sarah has been asking if I've gone on holiday this week; she hasn't seen a lot of me. So we all went to the museum yesterday. Rachael and Sarah spent ages in the kid's section, examining bones and beetles and all sorts of things. We also went in the volcano exhibit, where they had a mock house set up that had a television and a big window, showing you what it might be like if a volcano erupted under Auckland. Rather scary, but at least there's no hot spots under the farm. Well, not last time they checked, anyway.
The band has a contest coming up, so we're going to have two extra rehearsals and a trombone sectional coming up. The contest is on the same weekend that they're blocking the southern motorway for roadworks. It's going to be chaos. There's an alternative route, but it's going to be just about the only route through Auckland, so it could be interesting.
Kiwi make-it-last-longer no. 103:
The chemical shed. It's at the back of what used to be the tractor shed, which is still standing, mostly. The chemical shed appears to have been tacked on at the back, badly. The doorway has completely fallen out, as has part of the wall. Arthur the sheep is using it as a hideaway, so I arranged the door as a ramp to allow him to hobble in and out.
[ 2 comments ]
( 2601 views ) |
permalink
|





( 3 / 755 )
---
Bronwyn had a good time in Singapore, and spent the week visiting friends, and spending time in her favourite places over there. She didn't get out to the island to lay flowers because it was bucketing down all week. But she's happy that she was able to go.
Meanwhile, we survived the week without her. I hardly bought any food; I've been running down our extensive stock of leftovers and other frozen bits. The girls were sleeping on the sofas in the lounge. Rachael wanted to sleep in the lounge because the cat has been peeing in her bedroom. The cat has been sleeping outside after pooing indoors four times in about three days.
Rachael has been unusually quiet after Bronwyn brought home a Nintendo DS Lite. It's entirely in Korean, although at least the games are in English. We've got a few Koreans around, so we're having at least the basic instructions translated. I might even learn some Korean, if I can prize it out of her fingers.
Kiwi Make-it-last-longer example 102
Our side gate. It's had at least three hinges; you can see the extra bracing pieces at the top corner. It's also had a new couple of diagonal braces added. The post at the other side is leaning out at an odd angle, but this didn't matter because the gate was too. Now that the gate is back in line, it doesn't match the post any more! Note the concrete block I added at the base to stop the lambs getting in.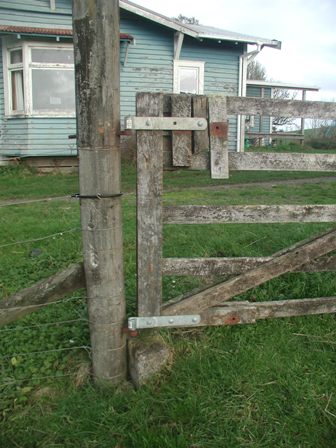 [ 2 comments ]
( 2728 views ) |
permalink
|





( 3 / 738 )
---
<<First <Back | 50 | 51 | 52 | 53 | 54 | 55 | 56 | 57 | 58 | 59 | Next> Last>>